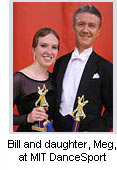 What is DanceSport anyway?
Below are some of the competitions that we, our dancesport friends, or our students may attend. Spectators and newcomers are always welcome!
Note that there are many annual USA Dance collegiate competitions that may not appear yet on this list. Traditionally, Vermont college teams attend competitions at Harvard, U. Conn, and MIT, among others.
June 26 - 28, 2014: DanseSport Montreal
One of the largest dance competitions on the east coast, DanseSport Montreal is an annual gathering of top dancesport couples, both professional and amateur. The competition lasts for three days with Championship levels in International Standard (Ballroom) and International Latin divisions hotly contested on Friday and Saturday evenings.
September 27, 2014: Canadian Open Championships and World DanceSport Federation events
Location: 7500 Ch. Mackle, Gymnase de Côte St-Luc, Québec, Canada. Information & Contact: 514 418-8264, 1-800-474-5746 or Email: Info@dansesportquebec.com
October 10-11, 2014: Extravaganza Montréal
Location: Hotel Westin Montréal, 270 Saint-Antoine Ouest, Montréal, Québec, Canada. Information & Contact: Sylvain Trottier 514-726-5006 or Email: montrealextravaganza@gmail.com